Dolphin Quest Online Slot
---

You wanted a new slot, completely different, with a completely different payout method, with the idea that will keep you focused, where the only similarity with other slots are the reels that turn and perhaps a symbol or two, nothing more. This is the slot for you!
The first thing you see and notice, in addition to the extraordinary animation and theme bringing all the sea life to you, are the 5 Reels, as in any other slot, but in 4 horizontal pay lines, in 50 winning streaks!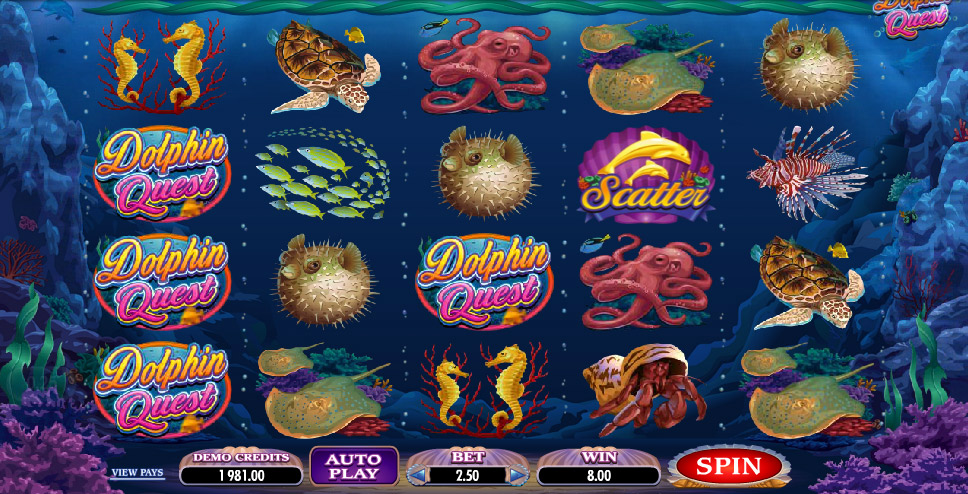 Within the game, the Scatter symbol if the golden dolphin (in the 4th reel in the picture) and it appears only in the 2nd, 3rd and 4th reel, and delivers the Dolphins Quest Bonus game. In the bonus game, you get 3 reels with the different number of points, that spin, the value you receive in the middle line is added and delivers Bonus points for you, as the image shows.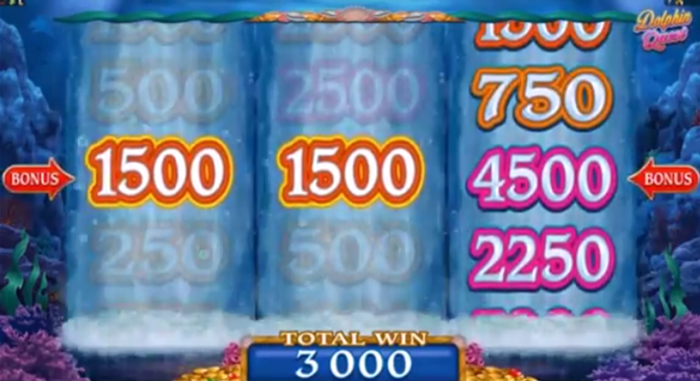 What is also interesting, the Scatter symbol is also the Wild Symbol (Joker) that replaces all other symbols.
There is a "Dolphin Quest Symbol" (in the 1st and 3rd reel in the picture) that is the Stacked Wild symbol or, to put it simply and directly, just like the picture shows, the Joker that can cover one, two, three or the entire pay line (reel).
This is a great story, nicely explained and evoked, and sounds interesting, but you get the real feeling on all said only by playing this slot.
We would not exaggerate if we were to say that this is one of the rare slots in which you will not be "desperate" for the Bonus game. It is there, but the multiple winnings, the possibility of payout where in the first reel you get the full reel of "Dolphin Quest" symbols, in the second, third and fourth "Golden dolphins" Scatter symbols and in the last reel just one more Dolphin Quest symbol, cannot be matched even by the Bonus game, almost.
Try it, this is one of those games which, due to a huge number of pay lines, two types of Jokers, and a Bonus game, you can play for hours on a small stake. It is certainly worth the try; it cannot cost you too much.
---